Otakon 2022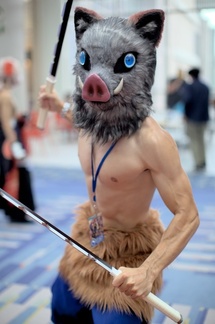 Otakon has come back strong from covid lockdowns. Otakon in 2020 was cancelled as the Walter E Washington Convention Center was used by the city as an emergency field hospital. Otakon in 2021 was heald with reduced attendance thanks to the ongoing lockdowns and difficulties with international travel. Japan in particular had some restrictive travel options due to slow roll-out of vaccines in the country. Many people were still in a self-imposed quarantine situation and chose to wait until next year to return to Otakon. And that they did! In 2022 Otakon grew to 40,466 members (equivalent to individual attendees), a 50% increase over the previous year and an almost 20% growth over Otakon in 2014, the previous biggest year. With this many attendees, Otakon has definitively filled up the entire Convention Center. With only a few exceptions, every meeting room, every ballroom, and every exhibit hall is used; and then much of the connected Marriott Marquis is utilized for meeting space, as well. Otakon is one of the largest conventionts held in DC, though the center also hosts a number of political and private events (such as presidential inauguration balls) for which numbers are not available.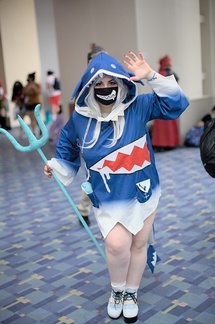 Otakon is slated to remain at the Washington DC Convention center until at least 2024, having moved there in 2017. Only a few things in the big picture have changed since the move. The nearest hotels are very convenient and a good match with the convention, but can be somewhat pricey. Other options are available nearby but require a bit of a walk. And even more options are available (including some value budget options) for those willing to take a short Uber or Metro ride. (The metro Yellow and Green lines connect directly to the convention center and are a good option to get there.) The Marriott Marquis is the premiere convention hotel, as it hosts part of the convention and has an underground walkway connected to the main convention center. And as in the past, many great food options are available in nearby Chinatown, though this is again a bit of a walk from the main hotels and the convention center. Quite a few other restaurants are near-by with options from the very cheap to top-tier three-star Michelin restaurants. The convention center itself has a few limited food options. The exhibit halls have some fast-food style options with things like pizza, fries, and chicken tenders. The main upstairs lobby holds a Ben's Half Smoke restaurant (that's the DC name for DC-style hot dogs), and three additional restaurants. These additional restaurants have been a pizza, a burger, and a Caribbean option; while they could change, they seem to be semi-permanent. In 2019 an additional option was available in the basement below the south entrance, hosting a number of pop-up style restaurants including crepes, Chinese, Japanese, and many others. In 22021 it was closed, and in 2022 closed for renovation. This makes sense at a time when attendance is expected to be low (which was the case in 2021), but was a disappointment for 2022 when covid lockdowns were mostly over and attendance had grown considerably.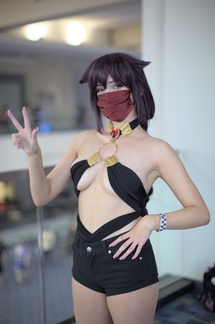 Even though by 2022 most anime conventions were mostly back to normal (or the new normal, depending on perspective), Otakon was still required by the city to have a masking policy. Though masks were not worn outside for the most part, compliance with the policy was fairly high. By this time, cosplayers collectively chose to adapt masks into their costumes, using the same materials and styles as the rest of their costume. With such masks easy to make (though of questionable ability to prevent spread of contagion), those with the skills to make costumes had little problem making a small addition. For everybody else, a small market for anime-themed face masks has grown, with many vendors providing masks for fairly low prices. For better or worse, a very cheap make of face masks imported from China are the most common. While they work, they tend to be made for smaller childrens' faces; and for good reason, masks can't be tried on before purchase. As lockdowns end and policies return to pre-covid status, this will largely become a moot issue.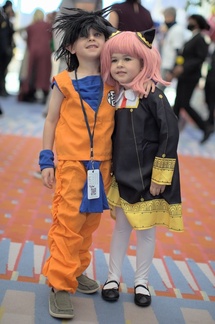 Perhaps the biggest part of Otakon 2022 was that other than the city-imposed mask policy, the convention is not just back to normal but growing nicely. My reports in the past cover much of Otakon's surrounding area, programming, and visiting information. Otakon really is a fantastic convention and is worth the trip to Washington, DC, for the weekend. And for those who wish to only come in for a day, any of the days is a good option for a visit -- though Saturday is definitely the best of them. Otakon 2023 will be interesting in that covid lockdowns will likely be a thing of the past and attendance may go up or down. Otakon announced their departure from Baltimore a few years ahead of the move, and we are now within two years of a possible move. As great as the Baltimore location was (and as nostalgic), the DC convention center is perhaps the only one that can handle Otakon as it grows. The convention center is fully utilized (as in all function space is used) but has plenty of non-function space available and could hold many more attendees if needed. Plus, the Marquis still has additional room for expansion. While it might not be fast, Otakon is likely to grow and grow, and will have a home in Washington, DC, for quite some time.